With every new year comes new laws and regulations, and 2020 is no exception. As a contractor and business owner it may be difficult to keep up with the changing regulations, so here is a compiled guide, laying out the new statutes and who is affected by them.
A & B CLASSIFICATION CONTRACTORS
Assembly Bill (AB) 1475: This bill changes existing law to impose a requirement for projects being performed by the Department of Transportation (DOT). This law may seem to be only concerning the Department of Transportation, however their newly required hiring practices makes it so the DOT can only hire licensed contractors for the role of Construction or Project Manager. This law will create opportunities for contractors to step into these roles.
C10 & C47 CLASSIFICATION CONTRACTORS
We are anticipating many changes to the state legislature this year regarding the solar industry and its workforce. We will do our best to ensure our consumers and contractors stay informed about newly implemented requirements and procedures throughout the year.
AB 754: This bill changes current legislation to impose the requirement to notify a regional notification center (811), prior to excavation work. Calling 811 will notify local utility companies to mark their underground lines in order to provide for the safe excavation on property that may contain public utility lines. This legislation specifically requires that any solar contractor installing ground rods call 811, prior to beginning their work. The utility companies will take approximately 2-3 days to mark the lines, after which time excavation work may begin.
AB 178: This bill will impact contractors performing work on homes that have been damaged or destroyed in a declared disaster. This law states that the repairs must meet the solar requirements in place at the time the building was originally built, rather than the current requirements. Current state law requires any newly built home be equipped with roof-mounted or off-site solar, which makes the cost of building a new home more expensive. However, with the passing of AB 178, individuals who have had their homes damaged or destroyed can rebuild them to their previous state. The changes made by AB 178 are temporary and will remain in effect until January 1, 2023.
Senate Bill (SB) 610: (C10, Electrical Contractors only) This bill imposes a $20 fee in addition to the license renewal fee, for C10 contractors only. This fee will be used by the Contractors State License Board (CSLB) to review certification status and enforce the provisions related to the Electrician Certification. As a C10 contractor, you must be registered by the Department of Industrial Relations (DIR) as a certified electrician. The $20 fee covers the labor required by the CSLB to verify the Electrician Certification status with the DIR.
ALL LICENSE CLASSIFICATIONS
SB 601: This bill will allow for contractors experiencing economic hardship to apply for a reduction in their licensing fees. The passing of the bill will mandate state agencies, that require licensing, implement a process by which individuals can apply for a fee reduction.
Contractors who have been displaced or are experiencing economic hardship as a result of an emergency will be able to apply for a fee reduction or to have their fees waived. There are three situations that qualify as an emergency situation: State of War Emergency, State of Emergency, or Local Emergency. The waiver application must be submitted within one year of the date the emergency was declared and the contractor must be able to provide evidence of displacement or economic hardship. We will provide information regarding the submission of these applications once the CSLB establishes the process.
AB 1076: This bill will impact contractors who have had an arrest or criminal conviction. Beginning January 1st, 2021, the Department of Justice (DOJ) will begin reviewing state-wide records and determining individuals who are eligible for relief in the form of having their arrest records or criminal conviction records withheld from disclosure, without any petition or motion. Previously, a contractor would have to go through a lengthy legal process to have their record sealed. This bill will put that requirement on the DOJ, who will perform their monthly determination without any action on the part of the contractor.
As referenced in our blog post from December 6th, the CSLB will be rolling out license fee changes, effective February 1st, as an emergency measure to raise necessary operating funds. Contractors with renewal dates after February 1st, 2020, will see their license renewal fees reflect the increased license fees. For a full breakdown of the license fee changes, please see the below diagram from the CSLB.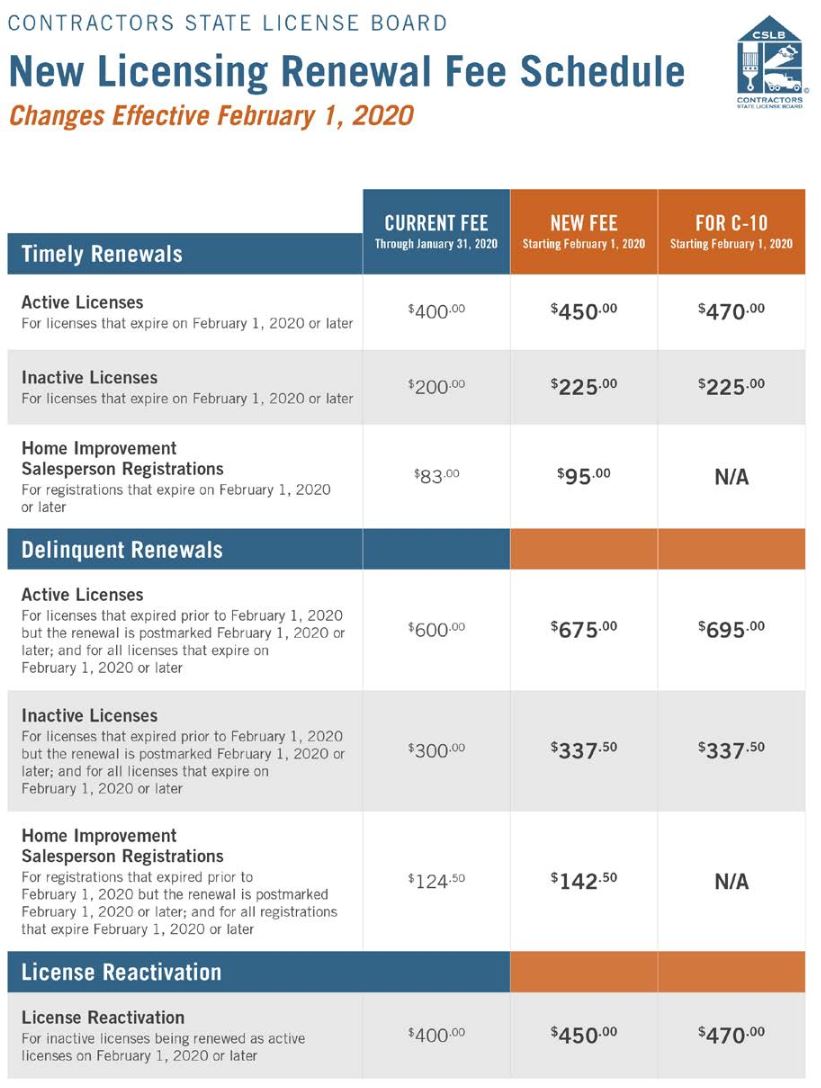 For a full list of the laws going into effect, please visit the Contractors State License Board bulletin.